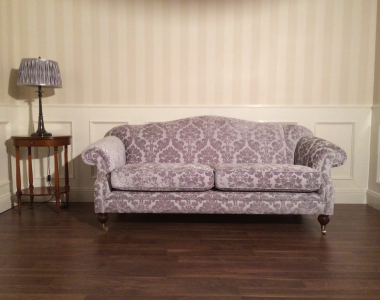 Click to Enlarge
The Dunmore
The Dunmore is a classic camel back sofa. It can be manufactured in a chair, 2 seater, 2.5 seater, 3 seater or 4 seater but looks best in the classic 3 seater. If you are looking for an alternative chair to go with the Dunmore sofa, a Queen Ann chair will finish the classic look beautifully.

This sofa also looks great with a deep buttoned back.

This is available in chair, two seater, two and a half seater and a three seater.

Extra options: arm covers, foot stool to match, ottoman to match, scater cusions. Choice of leg options available.