LUXURY IRISH MADE FURNITURE
David Blake Furniture specialises in the manufacture of high quality sofas, armchairs, chaise longues, dining room chairs, ottomans, bed-backs and bespoke pieces.
Based in Bandon, Co. Cork, David Blake Furniture also carries a wide range of designer fabrics, encompassing both modern and classical styles.
All furniture in the David Blake factory workshop is manufactured to the highest standard, incorporating only the finest materials.
Whether it's a sofa from the David Blake Collection, your own bespoke design or a repair of your own furniture, we can help...
David himself is a second generation handmade furniture manufacturer with over 30 years specialist experience in the furniture industry. He offers a one-to-one consultancy service for customers considering bespoke designs and is always on hand to advise all customers on what pieces in the showroom could best suit their needs.
David attributes a lot of his knowledge on what makes good quality, durable and beautiful furniture to his years of repairing and restoration.
David says:
"When a sofa or other piece of furniture is stripped bare, you can see what the manufacturer has done right - and what they have done wrong! Over the years my training, combined with what I observed in the many period pieces I've worked on on has largely shaped my own design style. I have a particular interest in structure, both antique and modern and this is an area I continue to develop in my own furniture range."
A visit to our West Cork showroom is a must!
Check out the recently installed bespoke couch for the Google offices in Cork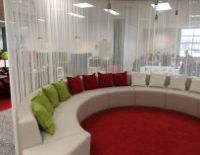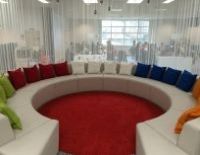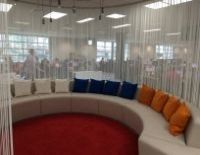 HOW WE WORK
All furniture is manufactured in the David Blake factory workshop, which is adjacent to the showroom.